Thank you for your interest in Blessed Sacrament!
We are here to help guide your family through the very personal decision of where to send your children to school.  We are happy to answer questions, provide information, and work with you to show you the fantastic community that is available to your family here at Blessed Sacrament.
Our office staff can answer registration questions, schedule a tour or shadow day, and inform you of grade-level availability.  They can be contacted by calling the school directly at (859) 331-3062 or by e-mail at bssoffice@bssky.org.  Tours with the administration are available at any time upon request.
Registration & Re-Registration
Registration ("Admissions") will be available at the link below on Sunday, January 22.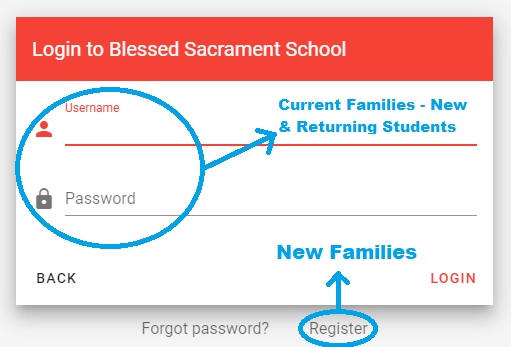 At the online registration link (above), current families should login with their Sycamore credentials to re-register and/or register new students.  
New families should click 'Register' at the bottom of the sign-in page.
Once logged in, click 'Admissions' on the left side of the page.
School fees and Chromebook payments can be paid online at this link.
FACTS Tuition management can be accessed here.
Registration is complete when the office receives all required paperwork and payment of school fees.  The establishment of a FACTs tuition payment account is required through the parish office.  Current families can re-register by filling out a re-registration form, which will be available on this page.   School fees can be paid directly to the school office via cash or check, or online via credit card.
Please note that registration is subject to the Blessed Sacrament Parish Registration Policy.