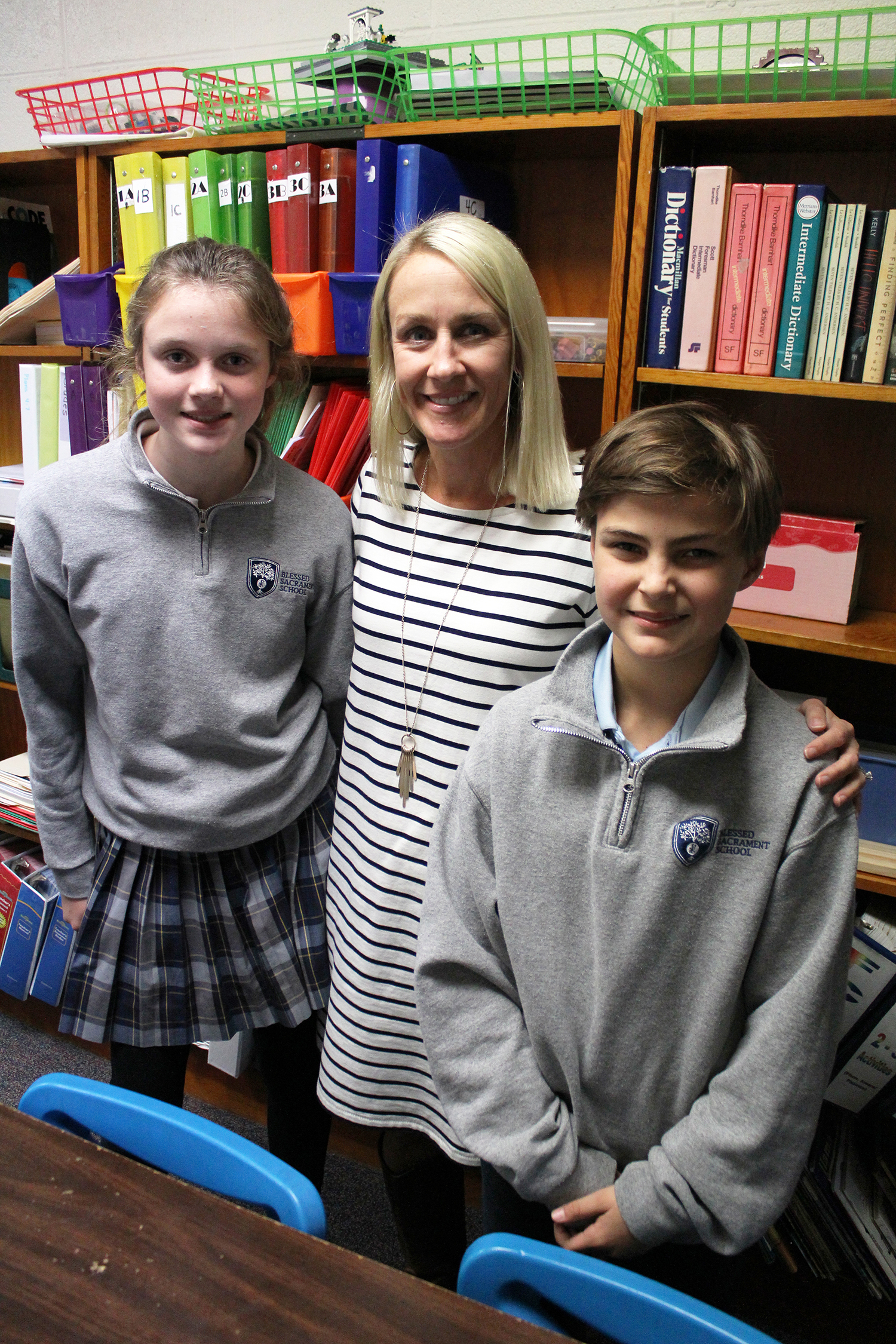 At Blessed Sacrament, we pride ourselves on the educational experience that we provide our students.  Our goal is that students not only achieve in their core subjects but also discover a love for learning.  We are happy to offer the following specialist classes to students in our building to support that goal.
Specialist Classes
These specialist classes are regular, weekly classes for all students in the specified grades.  Students are evaluated in most of these specialist classes using standards-based grading.  Spanish classes are assessed using the normal grade-level scoring method.
| | | |
| --- | --- | --- |
| Subject | Grades | Description |
| Art | 1 – 8 | Formal art classes begin in 1st grade.  Students study various artists, art styles, and artistic periods, and they create art in the style of known artists.  Blessed Sacrament students perform well in local art competitions such as 'Why I Love America' through Kenton County, the Kentucky Art Educators conference competition, and the Diocesan Showcase. Our end-of-the-year Fine Arts Night provides students the opportunity to showcase their artwork throughout the building to visitors and local artists. |
| Enrichment | 4 – 8 | Students in grades 4 – 8 can qualify to participate in an enrichment program called "Explore."  Students are identified using a composite score from three standardized assessments.  Students in 4th grade have enrichment courses once a week.  In grades 5 – 8, students have enrichment courses twice a week. |
| Library | K – 4 | Students have the opportunity to listen to model readers, check out books for leisure and personal use, and engage in a variety of reading-based activities during library time. |
| Music | K – 8 | Starting in kindergarten, students will develop a love and appreciation of music.  They will engage in hands-on learning experiences where they will learn, listen, and play a variety of music styles and genres.  They will demonstrate their skills to the community at various times throughout the school year. |
| Physical Education | K – 8 | Students hone their motor skills starting in kindergarten.  They learn teamwork, respect, and cooperation through engagement in organized-physical activity and team sports.  In the middle and upper grades, students work on the same skills as well as physical fitness. |
| Spanish | 2 – 8 | Students in 2nd – 4th grades are introduced to the Spanish language and begin building a base for more advanced-language learning.  In 5th – 6th grade, students continue learning the finer nuances of the Spanish language.  In 7th – 8th grades, students master enough Spanish that ~30% of the graduating class tests out of Spanish I at the high school level! |
| STEM | K – 8 | STEM is a program that focuses on Science, Technology, Engineering, and Math. While participating in STEM, students will be exposed to a wide variety of technology, hands-on activities, and interactive experiments.  They will build upon the skills gained in the classrooms through real-world investigations that extend to practical applications beyond the classroom. |
Additional Specialists
These specialists work with any students in grades K – 8 on an as-needed basis.
| | |
| --- | --- |
| Specialist | Description |
| Math Specialist | Our math specialists work to ensure all students are pushed to improve, no matter where they start.  Whether it be small remedial groups, whole-group support, or enrichment groupings, math specialists work to facilitate appropriate, high-level math instruction. |
| Reading Specialist | Our reading specialist supports both students and staff.  Working with individuals, small groups, in classrooms, and with staff to monitor and support reading skills.  The reading specialist evaluates and implements additional reading support programs/resources to ensure all students are progressing. |
| Academic Support | Our academic support specialist provides support to any student with a diagnosed learning disability.  From core-instruction support and organizational skills to homework help, our academic support specialist works individually, in small groups of 1 or 2, or in classrooms to ensure all students are working in their least-restrictive environment. |
| Counseling | Our full-time, licensed counselor works in a variety of capacities.  The counselor facilitates whole-group sessions on healthy relationships and friendship building.  Moreover, the counselor supports students in need of one-on-one attention, addresses social and emotional issues, and communicates regularly with parents to ensure the child's support system at home and school are working collaboratively in the best interest of the child. |
To learn more about the specific teacher for each specialist class, please see our staff page.